ELECTROSTATIC DISINFECTION
A REVOLUTIONARY TECHNOLOGY FOR EFFECTIVE INFECTION CONTROL
Thinking about infection control in the time of COVID-19 can be overwhelming.
With so many touch points in your business or facility, and so many areas to disinfect in order to prevent the spread of infection, the big worry is that areas are getting missed.
Tradition methods of disinfection like using a spray bottle can be sub-optimal as:
1. It does not provide a uniform even coat of disinfectant.
2. Spray from a bottle only coats the surface directly in front of the sprayer. This means that to disinfect around objects like a hand rail will take considerably more time, or will just be not disinfected effectively

HOW ELECTROSTATIC DISINFECTION WORKS
The electrostatic sprayer adds an electrical charge to the disinfectant solution as it leaves the nozzle. The fine mist it generates is positively charged. This makes the disinfectant mist want to cling to, and wrap around any object in front of it.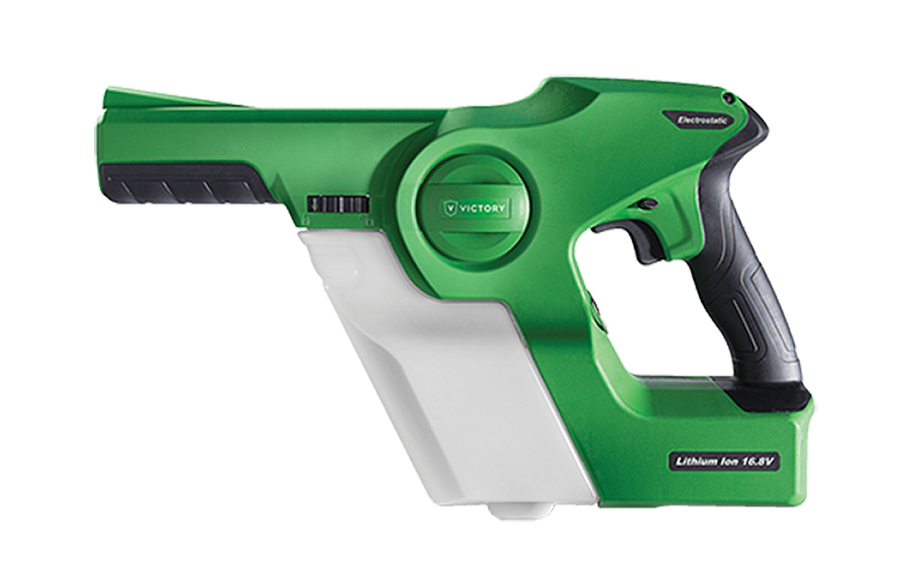 HOW ELECTROSTATIC DISINFECTION IS MORE EFFECTIVE IN INFECTION CONTROL
IT PROVIDES 360o COVERAGE
This includes hard to reach areas like the bottom of hand rails or the underneath of tables
IT CREATES A THROUGHOUT UNIFORM COATING
The positively charged particles will repel each other as they come out of the nozzle which creates an even spread of the disinfectant. Disinfectant already on one area will repel any more disinfectant from that area. This makes the disinfectant mist seek and attach to areas not yet coated. This ensures a very even and uniform coating on all surfaces.
IT REQUIRES SIGNIFICANTLY LESS DISINFECTANT THAN TRADITIONAL METHODS
Because the charged particles are so good at providing an even and thorough coating, far less disinfectant is required.
IT'S CHARGED PARTICLES PREVENT DRIPPING ALLOWING FOR PROPER DWELL TIMES
 Once the charged disinfectant particles are on surface, they hold their charge and are able to "cling" to the surfaces without dripping long enough for the disinfectant to kill any pathogen on the surface.
ARE YOU WORRIED ABOUT TOXIC RESIDUE FROM ALL THE DISINFECTANT?
THE HOSPITAL GRADE DISINFECT WE USE DOES NOT LEAVE ANY TOXIC RESIDUE
We carefully selected a disinfect that was Accelerated Hydrogen Peroxide based. This disinfect has a high safety profile when used in the correct concentration and does not leave any toxic reside. Oxivir Plus is on the Health Canada list of disinfectants that has been proven effective against Coronavirus. 

Key Features:
 1. High Safety Profile: Odourless, fragrance-free, non-irritating to skin, non-corrosive to eyes
2. Fast-acting: Short contact time ensures proper use and helps increase compliance
3. Surface protection: Non-corrosive, non-bleaching. Disinfects hard surfaces without creating destructive microcracks that harbour pathogens
4. Environmentally friendly – AHP biodegrades to oxygen and water

"Everything you'd hope from from a professional cleaning company and more. Best thing about them is I haven't had to think about it since they took over the job. Professional and efficient since day one".
-Drew Lauder,  Crag X Indoor Climbing Centre

SIGN UP FOR OUR NON-TOXIC CLEANING NEWSLETTER
Receive our latest updates and promotions!