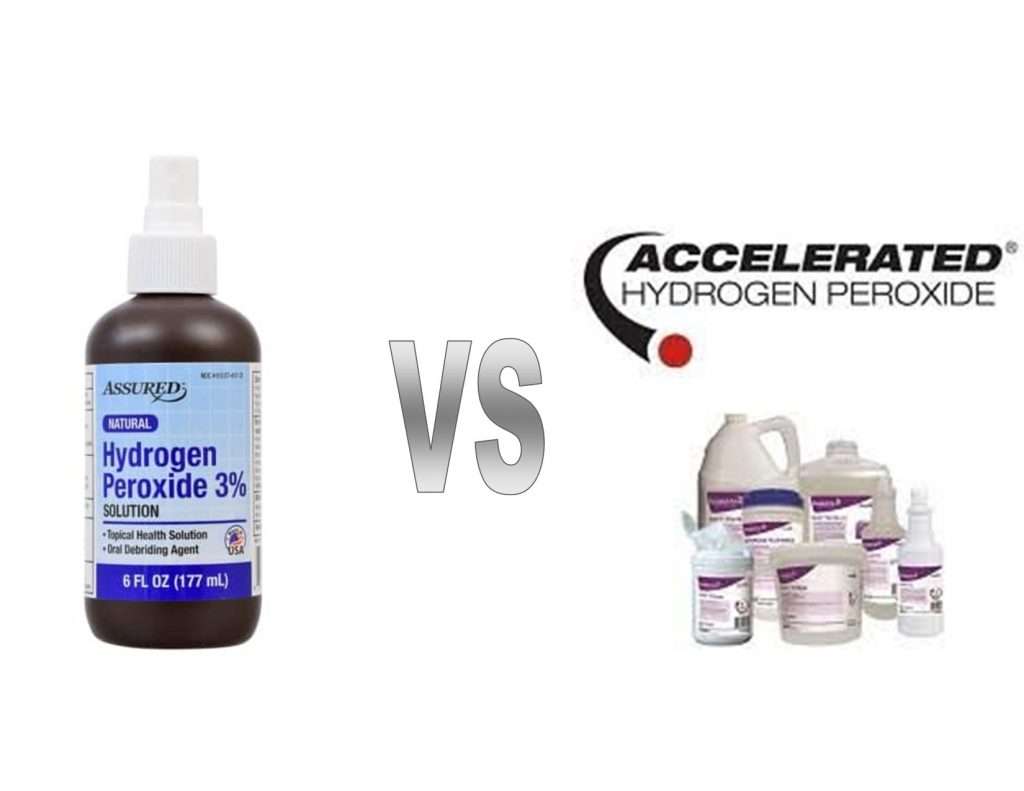 The hydrogen peroxide you can commonly purchase at the pharmacy is a 3% dilution of hydrogen peroxide and used commonly as an antiseptic to treat minor cuts, skin abrasions and burns. This hydrogen peroxide can usually be found in a brown or dark bottles; this is due to the fact that hydrogen peroxide is naturally unstable and deteriorates rapidly in light. Because of its unstable nature, it is not the best surface disinfectant as it doesn't allow enough sit time before the solution becomes inactive.
Accelerated hydrogen peroxide on the other hand is a
"formulation of Hydrogen Peroxide, surfactants and other inert ingredients which results in less active ingredient but better cleaning and faster germicidal performance than Hydrogen Peroxide at 3% with water (At the In-Use dilution of AHP for environmental surfaces the active ingredient is only 0.5%)."
https://virox.com/resources/faq/
Accelerated hydrogen peroxide is more stable than hydrogen peroxide; it has faster disinfection time and because of the added surfactants, is able to act as a cleaner as well as a disinfectant.
Virox technologies Inc., the Canadian company who pioneered and patented the new disinfectant technology, use a wide variety of product names branding for different areas of human and animal health. They are all however, versions of Accelerated Hydrogen Peroxide. Product names include:
When deciding on disinfectants to use in our commercial cleaning company all my research lead me to Accelerated Hydrogen Peroxide as being the most effective, while not being harmful to the health of our team member or the occupants of the offices we clean. Accelerated Hydrogen Peroxide® products are Included on Health Canada's and the EPA's List of Disinfectants for Use Against SARS-CoV-2 Coronavirus
If you would more information about using Green Wheel Cleaners to disinfect your office in Victoria BC contact us today